10 Gifts for Mom on Mothers Day
Guess what kids, Mothers Day is just around the corner. This year, gift mom something really nice for
Mothers Day
. For many families it's been a tough year but often mom's strength is the glue holding it all together. This is the perfect time of the year to express appreciation to keep mom happy for another year. The gift experts here at Gift n' Ideas have put together our 2010 Mothers Day Gift Guide featuring the
best Mothers Day gifts
of the year. We've picked out 10 Mothers Day Gifts that really stand out from the pack in their field. Mothers give us life, love and strength they deserve the best.
---
Candlelight Bubble Bath Spa Gift Basket
Here's something that mom will really enjoy, its a decadent Candlelight Bubble Bath Spa Gift Basket from GourmetGiftBaskets.com Everything mom needs for a relaxing candle lit bubble bath with spa treatment right at home. This wonderful spa gift basket delivers everything mom needs to soak away her stress. She'll set the mood with a Beanpod Lavender Soy Candle (the same candle that was at the Oscars), while relaxing in the bath tub enhanced with lavender and citrus bath beads and foaming bath powder, scrubbing away her worries with the cotton waffle loofah mitt. Post-bath moisturize with silky hand and body lotion. The spa gift basket is a gift of peace and relaxation and you're sure to get a sincere and refreshed thank you.
---
Eco-Friendly Organic Mothers Day Flowers
These are no ordinary flowers, for moms that are anything but ordinary. These are the worlds tallest roses, for the worlds greatest mom. These amazing roses from OrganicBouquet.com
are raised on an Ecuadorian farm nestled between two volcanoes at over 9,600 feet above sea level and as a result these impressive roses are up to 6ft. tall. Best of all they are eco-friendly, healthy and safe because they are organically grown in the rich mountain soil. Guaranteed to exceed moms Mothers Day flowers expectations.
---
EasyBloom Plus Plant Sensor
Does mom enjoy gardening? Here's a revolutionary device that takes the guesswork out of gardening. This Mothers Day gardening gift is perfect for troubleshooting those stubborn problem spots in the garden where the plants could be doing better. Introduced just last year the EasyBloom was wonderful tool for both the beginner and the avid gardener alike. This growing season, its been improved so that gardeners can now easily learn whether their plants are under or over fertilized in addition getting the previous readings for sunlight levels, temperature, soil moisture, and humidity. A gadget that can turn a brown thumb into a green thumb, and make a green thumb even greener.
---
Our Hearts Belong to You Mom Magnets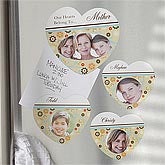 Here's a mothers day gift all the kids can agree upon. Get all of the siblings together and create a personalized gift from all of you. This delightful set of 4 heart shaped photo magnets are personalized with 2-lines of custom personalization at top of large heart, for a personal message completely your own! You'll also personalize the title and photo of your choice, for a thoughtful gift mom will cherish and be proud to display on the fridge for years and years to come!
---
Photo Watch
This spot was originally going to feature a really nice digital picture frame
, then I discovered this cool watch over at Hammacher Schlemmer
. It has a built in memory which stores 120 of moms favorite digital images and displays them on its extra bright, 1 1/2" screen. Mom can easily display pictures as a slide show or she can manually advance pictures. The watch can also be viewed in its analog mode, which superimposes hour and minute hands and hour points (not numbers) over your currently selected picture. Mom can also select from a non-photo background digital clock display, date and calendar view modes.
---
Embroidered Polka Dot Apron for Mom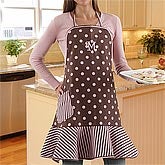 Mom will be showing off her baking skills in this cute polka dot apron personalized especially for her! This adorable apron is custom embroidered with any single initial of your choice in coordinating pink thread for a personal touch mom will truly appreciate. This absolutely adorable polka dot apron features a fashion fitted silhouette of durable 100% cotton canvas with straps to wrap around and tie in back. Sure to flair to any outfit, whether mom is entertaining guests or simply cooking in the kitchen!
---
A Mother's Legacy
It's a mothers instinct to pass along knowledge to her offspring. This spiral bound memory journal will take you on a journey and will certainly become a cherished family memoir. A Mothers Legacy is designed in a 12-month format, each month features 12 intriguing questions with space for mom to write her personal answer. Questions explore family history, childhood memories, lighthearted incidents, cherished traditions, and the dreams and spiritual adventures encountered in a lifetime of living. Her written words become windows to a mother's heart. What a wonderful way to show mom you truly care.
---
Gift Mom a Tree
Are you the offspring of an avid eco-mom? Here's a unique gift idea that shows you care about Mother Earth and mom too. Have a young tree planted to honor mom for mothers day this year. Gift tree will then send mom a beautiful framed Certificate of Planting, plus a Gift Card with your personal message. Your gift tree will be enjoyed for many years. It's a living gift that gives lasting recognition and helps renewing the forests in their State.
---
Monthly Gifts for Mom
Mom will start feeling like a queen with gifts that just keep coming and coming. Monthly gift clubs are an awesome way to show mom you love her regularly throughout the year. Select from several different gift clubs like Gourmet Cheese of the Month
, Wine of the Month
, Flowers of the Month
to name a few. Or mix it up
and have flowers set one month and wine another month for a variety of nice gifts that just keep coming and coming and coming, you can even schedule a gift for mom to be sent bi-monthly (every other month).
---
Engraved Mothers Day Ring from the Kids
It makes mom feel so good when when the kids all go in together on a special gift. The keyword there was together, mom will appreciate the cooperation it took to gift her this lovely Trinity Ring personalized with as many as 6 crystal birthstones and 6 names. Then there's the engraving on the inside of the Trinity Band featuring a heartfelt inscription from the children reading this loving message: "A Mother holds her children's hands for a short while, but their hearts forever." This sentimental gift from her children will be among her most cherished possessions.
---
Related articles by Zemanta
Image via Wikipedia
In : Mom Gifts
Tags:
mom
blog comments powered by

Disqus
blog comments powered by

Disqus
trackback