March 18, 2014
Gifts for Kids Personalized
You want to get something other than the usual toys, clothes and candy for that youngster in your life. The variety of
personalized gifts
out there has evolved from the basic coffee mugs and mouse pads with a person's name them, into the trendy new
customized gift
for everybody, even the cool kids! The list of gifts that can be personalized nowadays is virtually infinite. From sports gear to t-shirts and books today's kids are lucky to receive such a nice presents.
Personalized gifts
like children's books can be given to boys & girls for almost any holiday or special occasion. They make very nice presents for celebrations such as Christmas and birthdays. Certainly personalized books make wonderful gifts because the kids are always delighted when they are the hero in one of their favorite stories.
Kids in preschool and elementary school are at the age where they are fascinated with letters and love spelling their names. How much fun to get a toy like a step stool personalized with their name on it!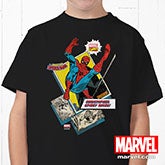 Even kids need a closet full of cool t-shirts to grab from and good personalized t-shirts are the best. No, one of those grainy icky old photo shirts, we're taking about the cute new school trendy shirts featuring cool custom personalized Marvel comic book character designs like the one here.
These are just a few of the new generation of cool presents that have that personalized touch to them. For a whole lot more wonderful personalized presents for kids of all ages visit our
Personalized gift guide
.
Posted by "flowski" Brandon. Posted In : Personalized Gift Ideas